Colonel Greg Travalio, U.S. Army (ret.) is one of our team's lead trial lawyers in the 3M Earplugs Lawsuits. He shared some background about his military service, legal career, and his desire to assist service members in the 3M earplugs cases below.
Can you tell us a little about your military service and background?  
I was commissioned as an Infantry Officer in 1969 through ROTC at the University of Pittsburgh and was on active duty through late 1971. I spent time at Ft. Benning, Ft. Knox, and Korea. In Korea, I spent my tour on or near the DMZ with the 2d ID, and was a platoon leader and company  executive officer. I ran recon and ambush patrols in the DMZ and drew hostile fire pay while there. I got off active duty in late 1971 and was in inactive reserves until 1975.
In 1982 I came back in the Army Reserve as a JAG officer (Captain). I had a variety of assignments—later assignments included Staff Judge Advocate, 83d Army Reserve Command, Reserve Staff Judge Advocate, US Central Command in Tampa, and Reserve Executive Office to the Judge Advocate General of the Army in the Pentagon. I retired in 2006 as a Colonel (0-6).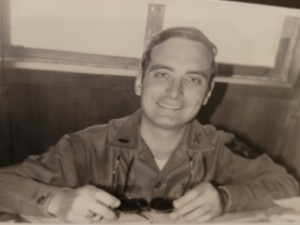 What drove you to join the service? Did you have other family members who served?
My father was a Navy Officer in WWII serving in both the Atlantic and Pacific theaters and remained a reserve officer, retiring as a Captain (0-6). I felt a responsibility to my family and to my country to serve. I came back in the Army as a Reserve JAG officer because I missed the sense of comradery and shared mission that only the military can offer.
Did serving in the military entice you to want to be a lawyer in any way?
Yes, to some degree. I served as a battalion assistant adjutant and battalion adjutant while at Ft. Knox, and was an integral part of the military justice function of the battalion commander. Although I already had some interest in law and was considering law school when I got out of the Army, that position helped to heighten my interest.
Did your background in the military provide you with useful skills or tools that you have incorporated into your legal practice?
No question about it. Most significantly, it provided me with the leadership skills, judgment, and accountability that are essential to good lawyering.
What is it about this case against 3M that motivated you to want to represent those affected?
This case carries with it not just the desire to do justice for our veterans who have been injured by the defective products produced by 3M, but for me it is a way to continue the connection with those in the military who I have come to treasure, and that I have, to some extent, missed since retiring from the military. It is a way to pay back all of those service members who, like all veterans, have written a blank check to their country when they enlisted or were commissioned. This case has even caused me to reconsider my future retirement plans. It is one thing to produce a defective product, but to do so knowing it is defective, and to then falsely distribute it to those who are willing to lay their lives on the line is outrageous.